KunRuch Creations wishes everyone a very happy and prosperous new year 2012.

Here are some of the ways that you can use to express your New Year Wishes using our app MyTextTwister.
Write your new year wishes with a difference
Use the Text Twisting capabilities of MyTextTwister to write your new year wishes. MyTextTwister has five built-in variations that you can add to your messages. Here is how "Happy New Year" will look with those variations.
ɹɐǝʎ ʍǝu ʎddɐɥ (Upside down)


Ħαþþɣ Ѝєω ¥єαɍ (Geeky) 


Ⓗⓐⓟⓟⓨ Ⓝⓔⓦ Ⓨⓔⓐⓡ (Rounded)


ℋå℘℘ץ Ѝℯฬ ¥eåř (Artisitc)


|-|4℗℗ɣ ][3vv `/34® (L33t sp34k)
Add some decoration to give that personal touch
If you want to add some personal touch, why not add some decoration to your message. MyTextTwister presents you with a wide variety of decorative ASCII arts to fulfill this need. Here are few examples what we came up with. You can create many more.
☆(\`*•.¸ (`*•.¸¸ ¸¸.•*`¸.•*\`)☆
ℋå℘℘ץ Ѝℯฬ ¥eåř
☆(¸.•* (¸.•*´¨¨`*•.¸) *•.¸)☆
(¯\`v´¯)
..\`*.¸.*´
¸.•´¸.•*¨) ¸.•*¨)
(¸.•´ (¸.•´ .•´ ¸¸.•¨¯`•
Ⓗⓐⓟⓟⓨ Ⓝⓔⓦ Ⓨⓔⓐⓡ
Download MyTextTwister for Windows Phone, if you don't have it yet.
---

Here is what you can do with your Windows Phone on the occasion of New Year using our app MyTileMaker.
Decorate your start screen and pin your new year resolution
MyTileMaker gives you the ability to add your own custom live tiles to the start screen of Windows Phone. You can use the split image feature of MyTileMaker to split a New Year greeting image into multiple tiles and pin to your start screen. On top of that, you can use our memo and list tiles to pin your New Year's resolution and New Year's shopping lists to your start screen. Here is a sample of how the start screen will look like. Hope you will find many more ways this New Year. :)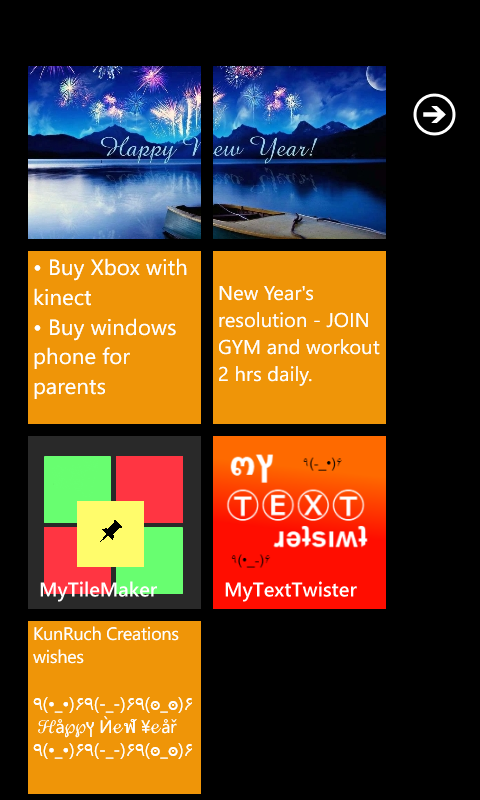 Download MyTileMaker for Windows Phone, if you don't have it yet.
Once again, wish you all a very Happy New Year! :)