MyTextTwister
Add lots of fun to SMS, email, Facebook and Twitter. Create amazing text effects and decorate it with cool ASCII arts and top it up with built-in 1200+ emoticons.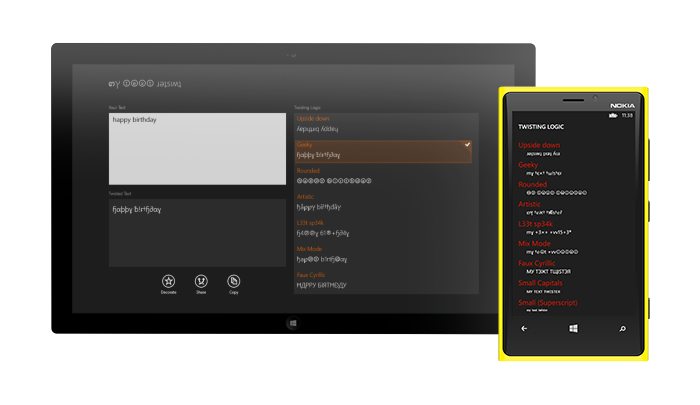 Get on
Scan the following QR code to get MyTextTwister on your device
MyTextTwister Features
★
Type in inverted, rounded, leet speak...
★
Add ASCII arts decorations
★
1200+ emoticons (emojis)
★
Compose pranks, greetings, proposals...
★
SMS and email to your friends and loved ones
★
Post to social networking sites
User Reviews ❤ MyTextTwister
Fun! Makes people go crazy :)

- Hassan HAMM, UK
Nice app and only for WP. Drives my iOS friends nuts

- draftdubya, US
Love this app ! Best thing ever !

- ViewingPandora2, US
Very cool change of pace :) fun to use and a nice surprise for the recipients. Get it!

- B DIGGLES, US
ЭЖÇЭLLЭИT

- surjo, India
Beaucoup de possibilités pour égayer ses messages, ses statuts etc.

- a user from France