Howdy folks! With Halloween around the corner, we are sure that everyone will be gearing up for the day. So, what better time than this to share with you all the new text effects that MyTextTwister has at your disposal :).
We updated both Windows Phone and Windows 8 store versions of MyTextTwister some time back. In case you missed these updates (which we certainly doubt ;)), you can download them now from the respective stores. It now offers four new text effects for Windows Phone users and six for those using the Windows 8 app. And, we are pretty sure, the new text effects: Liquid, Small Boss, Big Boss, Flames and Small Capital will help you in spicing up your pranks this Halloween.
So, people, what are you waiting for? Show everyone your creative side. Use MyTextTwister text effects and ASCII arts to spread love this season. You can also share your creations with us on our Facebook page.
We at KunRuch Creations wish you all a fun-filled and happy Halloween. Keep creating!!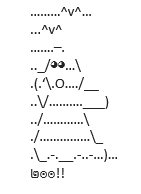 For new users: You can visit MyTextTwister app page for the download links and further info on the app.