We have reached another milestone. 100,000 downloads! 
A big Thanks to all the users who downloaded our apps and recommended them to their friends.
......♫.....((((,,.♫.....
.......¸,o¤°``°¤o,¸.....
♫...(....©¸¸©....).♫.
...oOO—*—OOo.
──╔════╦╗───────╔╗──╔╗──╔╗
╔╦╣╔╗╔╗║║───────║║──║╚╗╔╝║────╔╦╗
║║╠╝║║╚╣╚═╦══╦═╗║║╔╗╚╗╚╝╔╩═╦╗╔╣║║
╚╩╝─║║─║╔╗║╔╗║╔╗╣╚╝╝─╚╗╔╣╔╗║║║╠╩╝
────║║─║║║║╔╗║║║║╔╗╗──║║║╚╝║╚╝║
────╚╝─╚╝╚╩╝╚╩╝╚╩╝╚╝──╚╝╚══╩══╝
It may have taken us 7 months to reach to the first 50,000 downloads, but the next 50,000 came in just 2 months. We started our journey on 13th Oct 2011 for Windows Phone Platform and have proudly published 8 apps (4 free and 4 paid) till now. Our users have rated all our apps with 4+ stars on an average :) Thank you all for your nice comments and appreciations in the reviews and for all the great feedback!
Here is a peak at some of the stats (as of 8th July, 2012)
Download Graph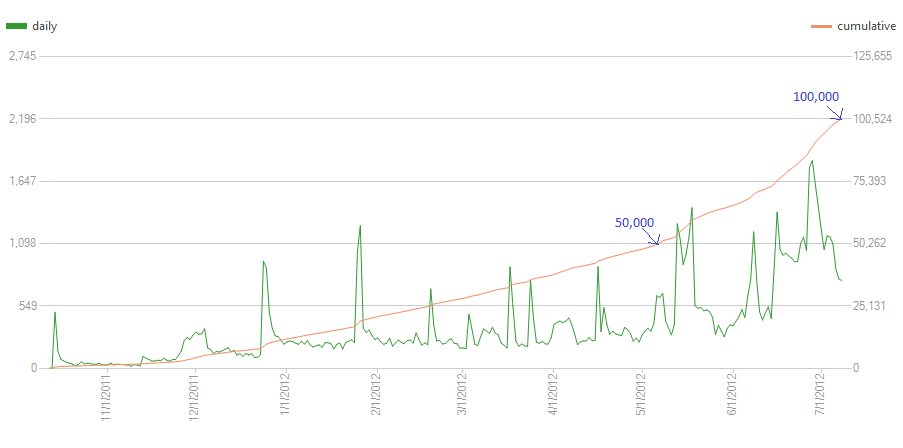 Most of the spikes in the daily downloads count is the effect of our apps getting featured in various marketplaces.
---
Downloads breakup by app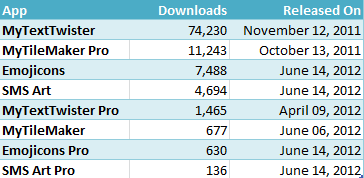 ---
Downloads breakup by country (Only Top 10 countries listed)

It's interesting to note that downloads in India has now taken over the downloads in UK market with a good margin since the last time we published our stats, while US continues to be the #1 market.
---
We have very exciting updates planned for all our apps and we are committed to keep our users happy.  Do let your suggestions and feedback coming. Thank You! :)